Enhance your company vehicles or storefront.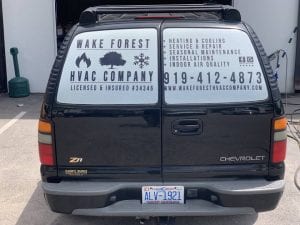 Window perf, or perforated window film, allows you to display a graphic on vehicle glass or a storefront window while still being able to see out from the inside. We offer window perf services at IPS Perforating, Inc., and we can help you create the right perforation pattern for your design.
Window perf for a building and window perf for a vehicle are quite different. One of the reasons is you must have 50/50 visibility when applying any material to a vehicle window, window perf included. For storefront windows, you typically need to have a 70/30 visibility level. We can create window perf in a wide variety of widths, including up to 62" in many of our patterns. We can also perforate materials up to 78" and 104" wide with selected patterns. Pick from one of our 80 available patterns, and we can complete your window perf project according to your specific vision.
After you send us your materials for perforation, we can usually send them back to you within a two-week period. Before that, however, we ask that you give us more information about how you plan to use the window perf at your location in Canada, so we can create the best possible design.
Our reputation for delivering precise, clean-cut holes means your new window perf will turn out exactly as you expect. To place an order or to request courtesy samples for pattern approval, contact us today.
---
At IPS Perforating, Inc., we offer window perf for customers in the United States and Canada.