We offer window perf services using your materials for your storefront or fleet vehicles.
Window perf is another name for perforated window film. The purpose of this product is to display a graphic on a storefront window or vehicle glass and still be able to see out through the window from the inside. At IPS Perforating, Inc., we offer window perf services using your materials and can guide you on the right pattern to use based on the application.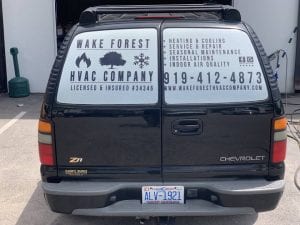 For example, what you use for a storefront and what you'd use for a vehicle are quite different. You must follow street legal requirements that allow 50/50 visibility through the window perf. For storefront windows, it is generally a 70/30 visibility that is used. We have the capacity to do window perf in various widths, including up to 62" in the majority of our patterns. We also have patterns that we can perforate up to 78" and 104" wide. With more than 70 available patterns, and ability to offer one-of-a-kind patterns, we are confident we can create the window perf that interests you.
From the time we receive your materials to getting your window perf back to you is usually under 2 weeks. We have maintained consistency in service and in workmanship since our inception. Our attention to detail in delivering precise, clean cut holes means your window perf will meet your expectations and needs. We also offer courtesy samples for pattern approval so you can see for yourself how the finished product will turn out.
If you have any questions about a window perf for your company's storefront or fleet vehicles, don't hesitate to reach out to us.
---
At IPS Perforating, Inc., we offer window perf for customers in the United States and Canada.